(Georgetown, Guyana – 20, July 2022) – Last night, over 200 guests joined Excel Guyana in celebrating a first for local businesses. Excel earned its Integrated Management Systems (IMS) Certification from SGS, the world's leading ISO certification company, with the implementation of three ISO systems including the ISO 9001:2015 Quality Management System, the ISO 45001:2018 Occupational Health and Safety Management System, and the ISO 14001:2015 Environmental Management Systems.
Among the evening's revered guests was the Honourable Mr. Manzoor Nadir, M.P. Speaker of the National Assembly of the Parliament of Guyana who commended Excel for the significance of this accomplishment and how it will benefit the business community.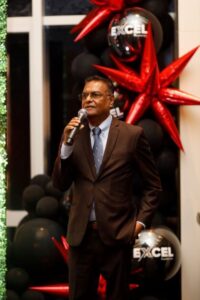 Hon. Mr. Manzoor Nadir, M.P. Speaker of the National Assembly of the Parliament of Guyana
The celebration of Excel's momentous accomplishment attracted notable guests including Honourable Mr. Lenox R. O'Dell Shuman, M.P., Deputy Speaker of the National Assembly; Dr. Peter Ramsaroop, CEO of the Guyana Office for Foreign and Local Investments; European Ambassador Hon. Dr. Fernando Ponz Cantó; Captain Gerry Gouveia, National Security Adviser; Ret. Major General Norman McLean; Paul Cheong, Chairman of the Private Sector Commission (PSC); Timothy Tucker, President of Georgetown Chamber of Commerce and Industry; and representatives from the US Embassy, Canadian High Commission, Embassy of Mexico and European Union to Guyana. During the evening's presentation, Excel's Chief Executive Officer, Mr. Kris Sammy, revealed that the firm has signed multiple agreements with foreign companies that have made the Local Content strategy an important foundation of their operations in Guyana. He praised our President, His Excellency Dr. Irfaan Ali and the government for enacting the Local Content Laws and for creating an investment-friendly climate for local and international investors.
"We are working closely with local entrepreneurs and micro businesses as sub-contractors to Excel that may not have the access to provide services directly to international companies. As we align services for our clients, we proactively look to our Guyanese partners in support of One Guyana." said Mr. Sammy.
Excel's Chief Executive Officer Kris Sammy
Excel's Chief Operating Officer, Michael Smith, shared, "Over the past year, Excel's Procurement Division has signed more than 20 Distribution and Supply Chain agreements direct with manufacturers for more than 3,000 industrial items needed in the daily operations of the Oil & Gas, Mining and Agriculture sectors. Our Integrated Management System and ISO standards will ensure we continue to provide world-class service to all our stakeholders."
This Saturday, Excel's Recruiting Division is hosting a career fair at the Georgetown Club for more than 200 new jobs that are coming online in the mining sector. Ewan Shanks, Excel's VP of Client Services and Recruitment commented "Our team is forecasting an additional 1,500 new jobs will be created in the mining sector within the next 2-years in addition to the new job creation in the Oil & Gas sector."
SGS, the world's leading certification company, conducted the Excel certification audit. SGS awarded Excel Guyana's IMS Certification. The certificate is valid for three years and surveillance audits will be conducted within that period.
About Excel Guyana
Excel Guyana creates opportunities, builds partnerships, connects people, and aligns resources to help build Guyana's future through strategic partnerships that elevate its local and international clients, partners, and the communities it serves.
Excel's Chief Operating Officer Michael Smith
Vice President of Client Services and Recruitment Ewan Shanks
With three decades of combined experience in Guyana and the wider CARICOM region, Excel has vast knowledge and experience in helping its customers and partners succeed. Excel provides dependable, reliable, and excellent service to investors in government relations and orientation, construction management, procurement and logistics, employee relocation, recruiting and human resources, expert accounting, and security among others.
Learn more at www.ExcelGuyana.com.